Alex Holguin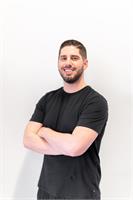 Alex joined the Cycleup team this year. He is well known in the studio as being "The Legend." Alex is a strong rider and competitor on the bike and inspires everyone to bring out their own inner beast. He began his journey taking cycling classes, grew to love it and had a desire to inspire others so he became Schwinn certified.
Alex has a degree in culinary arts so he knows his way around a healthy kitchen. Using healthy cooking and taking cycle classes at Cycleup has helped him lose 40 pounds. He looks forward to helping others come up with fresh ideas to maintain their healthy lifestyles.
Alex loves pop, hip-hop, techno, remixes and all high energy songs. Alex loves helping riders push limits while having fun doing it! His motto through life is if you believe it you can achieve it!
Alex Holguin instructs the following: