Joel Gunterman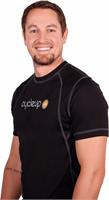 Joel is the the Head Strength & Conditioning Coach and Athletic Coordinator at Los Angeles Mission College.
Joel began teaching cycling classes while earning his Master Degree in Sports Administration at Valparaiso University. He received his Bachelor's Degree in Sports Medicine from Kansas Wesleyan University where he earned All-America Honors for Soccer. He also studied Strength and Conditioning for 4 years under Master Strength Coach and Cycleup instructor Robert dos Remedios.
Joel loves being able to push people to a limit they didn't know they could go. One of the best things in life is to be able to show someone their growth and stronger self. Joel's class style is to push your fitness to the tempo of the music and ROCK YOUR WATTS OFF!
Joel Gunterman instructs the following: