Meredith Danford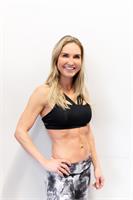 Meredith loves being on the Cycleup Team. She relocated to California a few years ago, and has made Santa Clarita her home.
Meredith has been an athlete all her life, competing in soccer, track, cross-country and golf. She also has some experience in combat fighting, so don't let her sweet demeanor fool you!
Meredith fell in love with indoor cycling and is passionate about what cycling has done for her and she loves to give back as an Instructor! She is committed to helping others believe in themselves and helping others achieve their fitness goals. Meredith says, "We are all worthy of success in whatever we put our minds to and my philosophy is to leave your ego at the door, gain strength from within and enjoy the ride." Get in a class with Meredith and let the achievement begin.
Meredith Danford instructs the following: