Annette Allen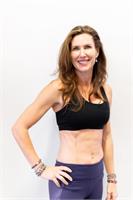 Annette has been in the fitness profession since she started teaching aerobics with crimped hair in spandex in 1988! She is passionate about motivating and inspiring everyone to live life fit and injury-free.
Annette has been certified by National Academy Sports Medicine, American College of Sports Medicine, Disabled Sports USA, AFAA, NCEP, Yogaworks Teacher Training and Scwhinn Indoor Cycling. She has been teaching outdoor fitness camps since 2004, private training since 1993 and teaching cycle classes since 1997.
Annette is known for her super high-energy and infectious sense of humor! Her focus during cycle classes is on form, alignment and proper body mechanics. She often teaches high-intensity "Tabata" drills- which were invented by Dr. Tabata specifically for cyclists. She will motivate and inspire you to release your lean inner athlete!
Annette Allen instructs the following:
30 minute Cycle plus 15 minute CORE strengthening and stability with Annette. Yoga Mat encouraged.




If you are looking to effectively train every part of your body, then you've got to check out this class! Split between cardio and strength training, you will get a full body workout in under an hour!

Start out with class to challenge your heart, burn calories and fat, increase your metabolic rate, and define your lower body. Then work off the bike to condition your upper body and core!