Wendell Mitchell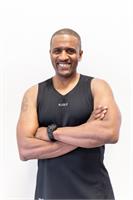 Wendell has been in the fitness industry for over 15 years now and loves it! He says that if he won the Lotto tomorrow, he would still be teaching! He took his first indoor cycling class 10 years ago and was hooked! He instantly fell in love with the combination of high energy, intense workouts put to great music. In 2010, he decided to get certified by Scwhinn to become an instructor!
Wendell prides himself on giving some of the most intensely motivating, inspirational and fun indoor cycling experiences you will ever find. He makes it his mission to make sure that EVERY rider leaves his class feeling accomplishment, achievement and success.
You're sure to hear a great playlist, which often includes Pop, Rock, Hip Hop, and R&B. Wendell believes that every individual has a championship level athlete inside of them that is dying to get out and shine! So he hopes to see you shining on a bike soon!
Wendell Mitchell instructs the following:
This 45 minute ride incorporates our PIQ performance software. Improve your strength and cardiovascular endurance a fun and inspirational environment. All levels are welcome as each rider is in control of their bike. Our instructors will guide you through the class according to your fitness level and inspire you to come back again.




Celebrate the Season and ride with us. No leaderboard, just ride to the rhythm with Jackie and Wendell.




One hour with Wendell. NO LEADERBOARD. Inspiration, fun and GREAT music.